Thoron (Daughters of Freya Book 2)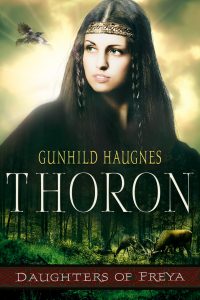 Born as a princess, destined to serve the Norse gods
Thoron grows up in an Irish village with her grandmother, a pagan – unaware that she is the daughter of the Norwegian King, Haakon Haakonsson.
At fourteen Thoron leaves the Emerald Isle, and sails to her royal family just as the bloody battle for the kingship enters its last dramatic phase.
The burden of her heathen inheritance weighs heavily upon her shoulders, and she finds herself forced to battle against everything her father stood for.
In the 13th century, Norway was enjoying the peak of its power and influence.
But everything was controlled by men!

---

Thoron is the second book in the standalone Series «Daughters of Freya» which will be a total of seven books – all Epic Tales inspired by true events in Nordic history.
1) Freydis (launched)
2) Thoron (launched)
3) Driva (will be launched early 2021)
---

What readers say about Thoron
«I've mentioned before that I'm a huge fan of legends and historical romances. «Daughters of Freya» gives that in spades.» – Rhonda Hicks, Top 1000 Reviewer Vine Voice
«Wowee, wow,wow! – The story feels like a bubble that expands as you read and, before you know it, you are deeply inside that bubble» – Dawn, reviewer (Goodreads)

«Women of legend had real lives, Thoron is one of them – I find myself strangely drawn to the story as I read it and relive Thorons's life in early Norway. I love historical fiction and this book is that at its best.» – Anne R. Marshall, reviewer (Goodreads, Amazon)

«Legendary – I thought Freydis to be a character I will always remember but now Thoron is someone who life, loves and times will always be remembered, too. Thoron is that stuff of legends, it is timeless.» – Paula Wall, reviewer (Goodreads, Amazon)
«Apparently the genre classification of this book is historical and Women's fiction, well as a sixth two year grumpy Yorkshireman i thoroughly enjoyed it.» – John Mccormick, reviewer (Goodreads)
«Another great book in this series by Gunhild Haugnes. An excellent job translating from Norwegian… A fascinating story spun from the historical documents.» – C. Anderson
………………..
«This woman will face a daunting task»
Freya reveals the Midgard Worm together with four small snakes and feels unease. She and Odin understand they have to do something to avoid a big disaster. The survival of the Earth is on stake.
This short story is a prologue to the «Daughters of Freya Series».
(+ Newsletter Signup):