Freydis (Daughters of Freya Book 1)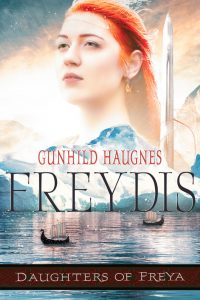 Fiery passion. Perilous voyages. Powerful history.
Freydis Eiriksdatter, one of the most remarkable women of the Viking age, leads a harsh life amongst the towering cliffs and great glaciers of Greenland.
She has the warrior spirit of her father, Eirik the Red, and as Christianity conquers Greenland, she continues to worship the old Norse gods.
Like her brother, Leif Eiriksson, she's cursed with an adventurer's soul. Her biggest desire is to become a legendary explorer. Driven by ambition, curiosity – a restless hunger for more – she sets out on a hazardous voyage to Vinland.
But amidst the perils and brutality of nature, her biggest obstacle is rudimentary…
In the year 1080, an explorer can never be a woman.
---
Freydis is the first book in the standalone Series «Daughters of Freya» which will be a total of seven books – all Epic Tales inspired by true events in Nordic history.
1) Freydis (launched)
2) Thoron (launched)
3) Driva (will be launched early 2021)
Freydis is a Editor's Pick in BookLife Review – a book of outstanding quality (published in Publishers Weekly August 3th 2020) and is also part of of BookLife Elite collection.
Quote from BookLife review:
«This impeccable researched and expertly plotted tale will give fans of Viking sagas a vibrant heroine to love.»
Great for fans of Morgan Llywelyn´s Grania: She-King of the Irish Seas, Cathrine Coulter´s Season of the Sun.
---
What readers say about Freydis
«I would give this book 10 stars if I could. Best book I have read in 2020 so far» – Paula Wall
«Gunhild Haugnes creates magic with her really beautiful descriptions of the characters and breaking scenery in which this story is set.» – Hayley Fortin

«It picked me up and deposited me in that other place and… I loved it. Exactly what a good book is supposed to do. Read this one. It's good. – reader2010-Amazon
«Gunhild Haugnes provided me with beautiful characters and amazing scenery to imagine my own ancestors and their stories. This book is wonderfully written and is a joy to read.» – C. Anderson