A message from Gunhild – the author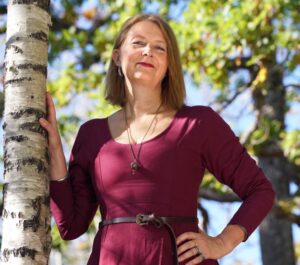 Gunhild is a native Norwegian who takes her name from two valkyries, Gun and Hild, goddesses of war in Norse mythology. She fights with all her might for what she believes in, but she feels greater empathy with the goddess Saga – a saga-writer or female Bard.
Gunhild has worked in journalism and as a disseminator of research  for many years, and in 2013 she achieved her lifelong dream when she  published her first historic fiction in Norwegian, 'Døtre av Norge', (Daughters of Norway'), the story of generations of women from one family over a hundred years, told against the background of the battle for female emancipation and equality.
She is currently working on a series of independent books collectively designated 'Frøyas døtre' (Daughters of Freya), after the greatest Norse goddess of all – FREYA. How it all started you can read about in this free story (and get newsletter).
The first book in the series is the saga of a Viking woman, Freydis Eiriksdatter, who lived in Greenland a thousand years ago. The second book is a saga about Thoron Haakonsdatter. She is daughter of a very powerful christian norwegian king during 13th century – but also have a heavy heathen inheritence.
Gunhild now enjoying the work on book three in the series. It is from the time of the horrible black-death from the year 1349. Driva Snowdatter is the protagonist, but the most powerful woman ever in the Nordic history will also be a leading person. «Driva» will probably be launched early 2021 both in english and norwegian.
All Gunhild's books feature:
Powerful figures from Nordic history
Strong female protagonists
Stories based on historical accounts and the author's imagination
Myths and deities from the ancient sagas and Norse mythology
Majestic rugged nature and landscapes
… and of course, the most powerful themes in the world: Life & Death, Love & War.
…….
Contact Gunhild: (PS: She loves to hear from her readers!)

Facebook: Daughters of Freya – Series
Facebook (both norwegian and english): Gunhild Haugnes – author
Goodreads: Gunhild Haugnes
Instagram: Gunhild Haugnes
Twitter: @gunhildhaugnes
LinkedIN: Gunhild Haugnes
Pinterest: gunhild haugnes
Email: gunhildhaugnes@msn.com